High Desert Harmony celebrated the holiday season in grand style on Dec. 10, 2018 with "High Desert Holidays," at McKinley Arts & Culture Center in Reno. We were thrilled to have a sellout crowd on hand to enjoy holiday favorites sung in barbershop style, as well as the enthusiastic musical offerings of Reno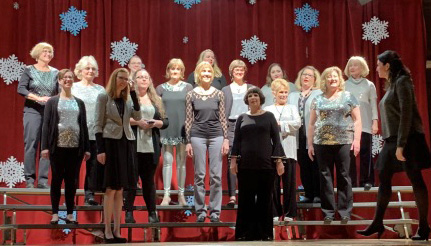 High School's women's chorus and Echo Loder Elementary School's honor choir.
High Desert Harmony was joined for three songs by our first-ever Holiday Guest Chorus -- 14 ladies from the community who rehearsed with us for five weeks prior to the show to get a taste of the fun and excitement of barbershop music. It was wonderful having these enthusiastic ladies on stage with us. In fact, several of these ladies returned for our Guest Night on Jan. 21st, interested in learning more about HDH. We are so glad to have them join us again!


HDH was honored to be invited to sing the National Anthem at the University of Nevada's Women's Basketball game on Jan. 12th. It was a thrill for us to be part of the excitement of collegiate basketball!